As the market dips in red, Bitcoin [BTC] fell to the lowest mark it ever hit in the past year. The number 1 cryptocurrency lost over a thousand USD in its trading prices and lost billions in its market cap.
Massive drop
On 19th November BTC was traded in the margin of $5600-$5400, after a few dips the coin gave up the $5000 resistance and rolled into the bear's cave.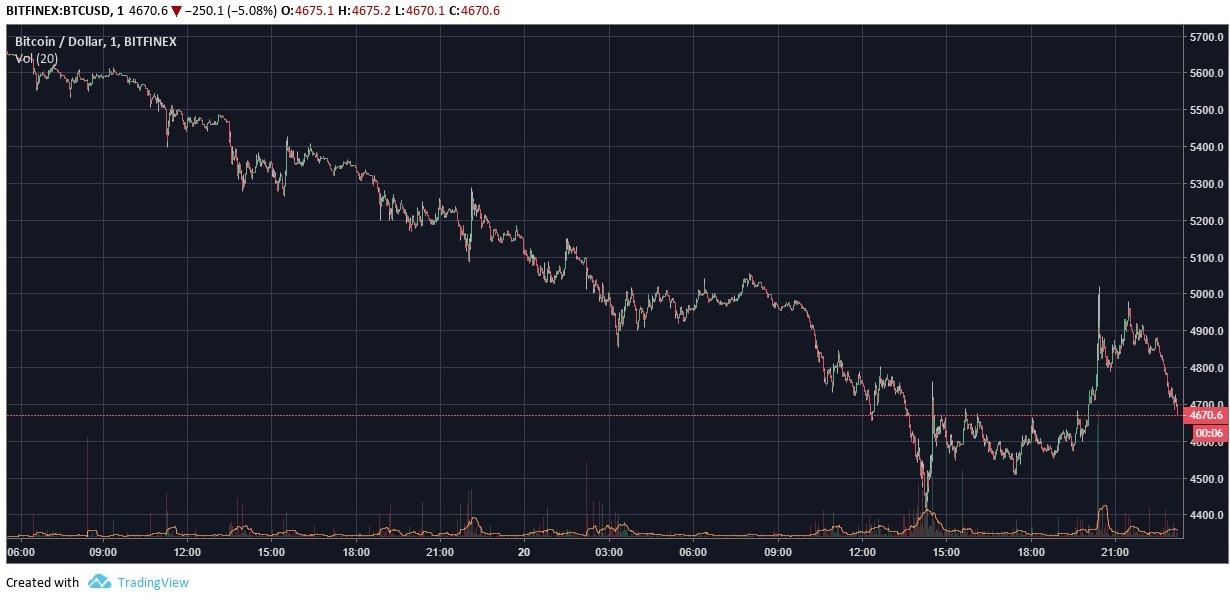 Bitcoin started its day with the trading price of $5560, which itself was a bear price considering bitcoin fell from $6300 in less than 7-day span. BTC slowly fell around $100 every hour and fluctuated in the zones of $5000, the coin was expected to resist and pump back to its older margins.
On 20th November the expectations of the cryptocurrency community were to see the market green which did not turn up as anticipated. BTC dropped to the lowest levels of the trading price it had since October 2017, it breached the strong perimeters as it entered the $4,250 margin.
In the timeline of 14th-20th November, BTC lost over $2000 in its trading price along with its triple-digit market value. Bitcoin held a market cap of $110 billion, the fall resulted in BTC losing $30 billion over the week.
According to CoinMarketCap, since January '18 the cryptocurrency market has lost almost $700 billion of market value.
Irrespective of all the blood shower, the crypto-world praised XRP [XRP] as the coin jumped over Ethereum [ETH] and took its position #2 on CoinMarketCap. In addition to this, the bear market even pushed Stellar Lumens [XLM] to its new position #4 while it hopped over Bitcoin Cash [BCH] which dropped a rank.
The current dominance of BTC is 53.3% in the crypto-market and the coin is still trying to gain momentum. At the time of writing, BTC is trading at $4622 with the market cap of $80 billion. The coin has seen a fall of 27.37% in the past 7 days and its daily cap bleeds red with a drop of 8.82%.
Speculations: Reasons why BTC crashed
SEC's announcement on 16th Nov which stated that the operators of two "Initial Coin Offerings" [ICOs] broke the law by selling unlicensed securities, must pay fines and restitution.
Last week's Bitcoin Cash fork that possibly created renewed centralization concerns over Bitcoin Cash.
Nvidia and Advanced Micro Devices recently reported steep sales declines for cryptocurrency equipment. The sales declines suggested that the interest in cryptocurrencies has possibly faded.