Flashmoni's website went offline after a staggering $72 million ICO fundraising back in May 2018. The project announced they would introduce a stable coin backed by physical gold bars called OZT along with a series of financial applications including a payment gateway solution and hardware crypto-terminal.
No tokens till date
Flashmoni published an article explaining their inability to list their token on crypto-exchanges after completion of their ICO in May 2018. The article states "it's not about getting listed fast"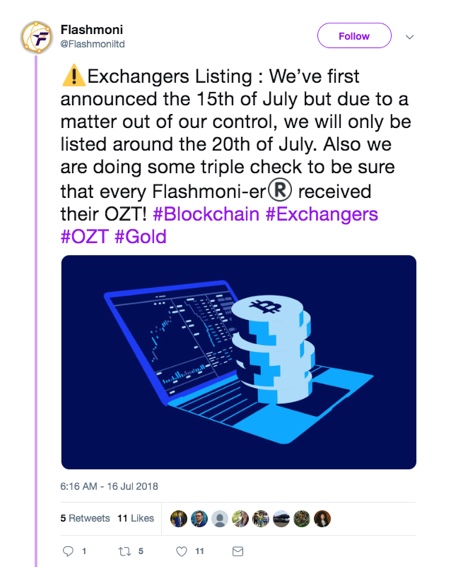 What's interesting is their inability to issue the token in the first place: only a few ICO investors received the OZT they purchased.
145 transfers occurred on the Flashmoni's output smart contract, and a quick glance at their telegram group showcases the frustration of investors.
Furthermore, the Flashmoni team forgets to mention their failure to deliver in their mea culpa, and finishes off the article with a referral link to an unknown event in Lisbon, the "Asset Backed Crypto Summit".
It further invites the community "to meet [them] physically" in Lisbon where they will introduce their Cryptostation "live demo".
Just like Flashmoni, the event's website is offline. The Lisbon Congress Center did not comment on whether the event really happened.
Shady communication and scam-like product offerings
The ICO funds raised of an asset-backed cryptocurrency should, in theory, be used to purchase the said assets.
In this scenario, the project intended to use only half of the token sale money to purchase gold. This means that no matter what, investors would purchase gold at half the market price via its ICO.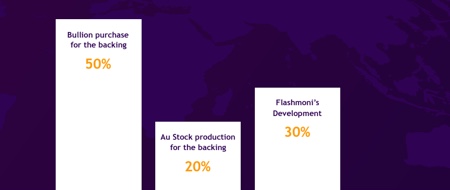 In addition to Flashmoni's dubious financial projections, the core business model includes a gold-pegged cryptocurrency and a decentralised advertising platform.
Although each of them independently is a sound blockchain innovation, mixing both under one umbrella is non-sensical - especially for a project that failed to showcase any proof of concept.
Red flags in stable coin set-up
The Flashmoni fiasco introduces common discrepancies in asset-backed cryptocurrency primary markets.
First, stablecoins require an easy path to asset redemption, else the cryptocurrency would not be backed by anything.
Secondly, to justify its stability nature, the asset-pegged cryptocurrency has to facilitate a transparency monitoring mechanism on its reserve, else token holders are not able to verify whether the digital asset is properly backed at all times.
Flashmoni showcased no proof of owning (or intending to own) gold bars, nor facilitates a pragmatic conversion process between its stablecoin and physical gold.
The Flashmoni team self-announced it raised $72 million in May 2018 on Medium post that also went offline, although it did not share any token sale contracts. There is no proof the team actually raised that amount. You can find their "whitepaper" here.